Discussion Starter
·
#1
·
I put this in the Building forum, because I made some of the parts.
I was reading a book about the history of Harley Davidson, and one chapter talked about how the test riders would add windscreens and sidecars for winter, and keep on riding, come cold come snow, so this year I decided to add certain items to my bike specifically for winter. Today I installed a windshield, a pair of handlebar muffs, and some lower covers that attach to my engine guard.
Here's a before picture: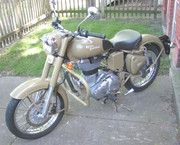 The engine guard was the first thing I put on the bike, and it's already proven it can save the bike and myself from damage when I had a low speed, black ice incident last winter.
Having a good strong bar like this really takes a lot of stress out of no speed handling, in my opinion. If you're pushing it around and stumble, and you feel like you need to drop the bike, you know you can drop it without hurting anything. I prefer paint to chrome, because I can fix paint, I can't fix chrome.
After adding the winter garb, it definitely loses some cool, but that was the idea.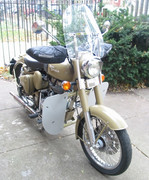 The windscreen was just $40 on Amazon including shipping, and although the handlebar clamps work, they aren't adequate to prevent bouncing or resist the torque due to wind load at higher speeds. I added some formed aluminum struts to the fork clamp bolts, which stiffen it up nicely. The screen is a bit smaller than I'd prefer, but it's something.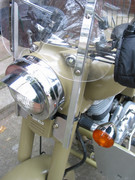 The muffs I got from a seller in China via Ebay for less than ten bucks. They lace on around the controls. If you haven't memorized which is the high beam switch and which is the kill switch, you don't want these on your bike.
I had seen pictures of old military bikes with simple flat covers attached to their crash bars, so I figured I'd try making a set.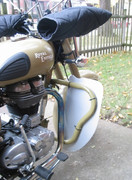 I cut them from some .050 sheet aluminum, drilled some holes, and nylock strapped them to my engine guard. Not much for style, and a bit of a barn door, but should keep some of the wind blast off my legs.
Does anybody else add accessories for winter only.