Discussion Starter
·
#1
·
I just got back from my one week solo journey through, and all around the Smoky Mountains from 10/23/19 to 10/29/19. The fall colors, especially at elevations were spectacular. I rented a cabin out in the middle of nowhere and used it as my home base for the week. It was high in the mountains. I was doing daily riding excursions and coming back to the cabin each night. The cabin was located about 10 miles outside of the little town of Robbinsville, NC (population 605) smack dab in the middle of the mountains. Other than a bad storm that rolled in and downed some trees that caused a closing of the Great Smoky Mountain National Park because of blocked roadways, the weather was nice. Daytime temps ranging from mid 50's to mid 60's and night time temps in the mid 30's to mid 40's. I experienced a day and a half of wind and rain, but made the most of my time there.
I've made this trip many times in the past, half the time with a riding buddy or two on their Harleys, the other times I've done it solo. Its about a 1400 mile round trip. But as I posted in the other thread, there's a lot to be said about doing trips like this by yourself. On one of my rides through the Nantahala National forest, I stopped at this really beautiful spot to take a photo. I hadn't seen another human being for at least an hour or two, (not that I noticed anyway). When I shut off the bike, it was like I was in the twilight zone. Not a sound to be heard, I mean not one sound, no planes or cars, no birds, no crickets, no frogs, no wind, no nothing. It was a strange sensation, but it was a pleasantly pleasing sensation to experience, it was like I was the last man on earth kind of feeling.. The Harley Dyna Super Glide Custom performed flawlessly during the whole trip, it was the first long distance trip with this bike, so I'm always a little leery on the first trip with a new bike. One thing for sure is that Harleys are not built to attack the roads say like my Moto Guzzi Griso 1200 is. I always knew this, but had to experience it the hard way myself. The Super Glide is better suited for a more leisure riding style.
I covered a lot of miles while I was there, riding from sunup to sundown. I did Moonshiners Run, the Fontana Dam, the Cherohala Skyway from Robbinsville NC to Tellico Plains, TN. HWY 129 Tail of the Dragon. Rode to other small towns like Cherokee, Maggie Valley, Murphy & Bryson City NC to devour some local cuisine. I stopped at this outdoor steak house where you eat outdoors on a wraparound porch in a forest. This dog came up out of nowhere to my table and just sat there staring at me the whole time I was there, about 45 minutes. I named the dog Dingo as he became my dining buddy, he didn't care for the stuffed mushrooms, but he loved the steak and fries. This lady comes up and says oh, what a beautiful dog, is he yours. I said no, he just found me. Be careful, he's a wild North Carolina Dingo and he might bite your hand off....lol, we had a good laugh.
The last day came when I had to pack up and head back to Florida, I really wanted to stay longer, but you know how life is, so I hit the road. The following pics of this years fall journey, the first couple of pics are from my cabins front porch looking out the front yard, if you can call it a yard. One pic shows the storm moving in. Then there's Dingo's photo and others that I took while at different locations during the weeks travels. Many of my pics were selfies because I was the only one there. When I encountered other people, some would ask me to take their photo for them, in tern, they would take one of me. On my last ride, I pulled into this scenic overlook, I was going to take a selfie when three ladies pulled in on their Harleys. They took a pic of me & I took one of the three of them. It was a good safe 2019 fall trip.
My front yard at the cabin.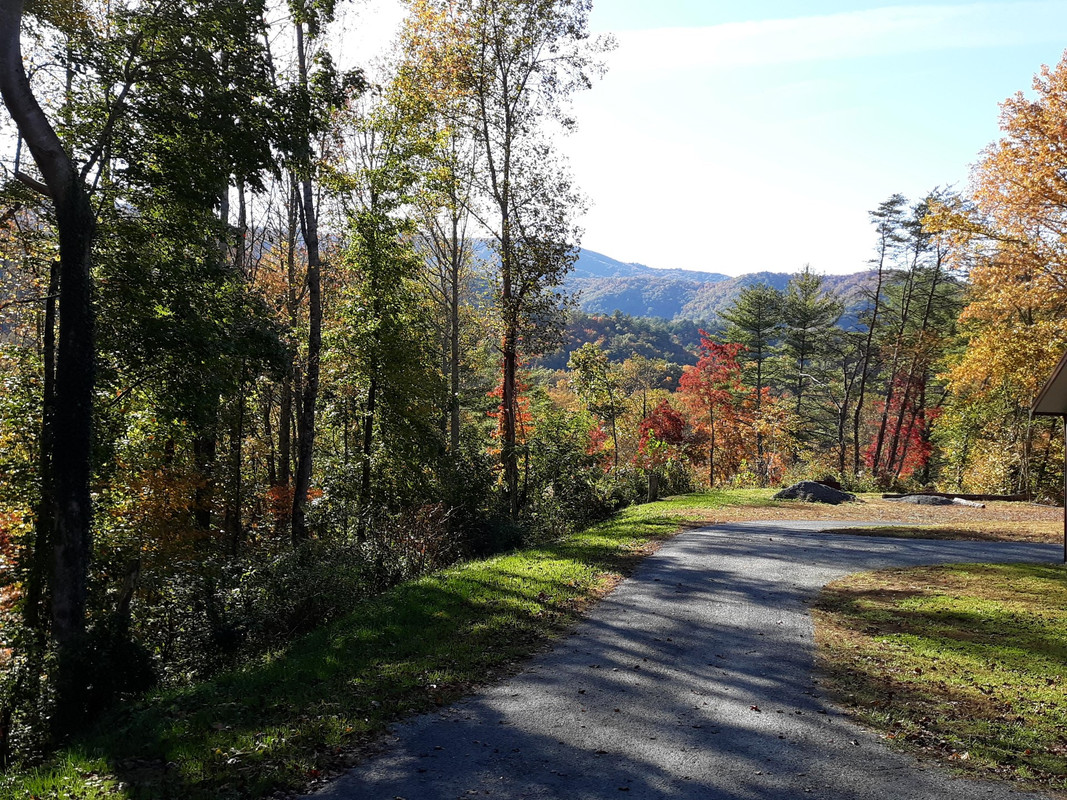 Storms moving in.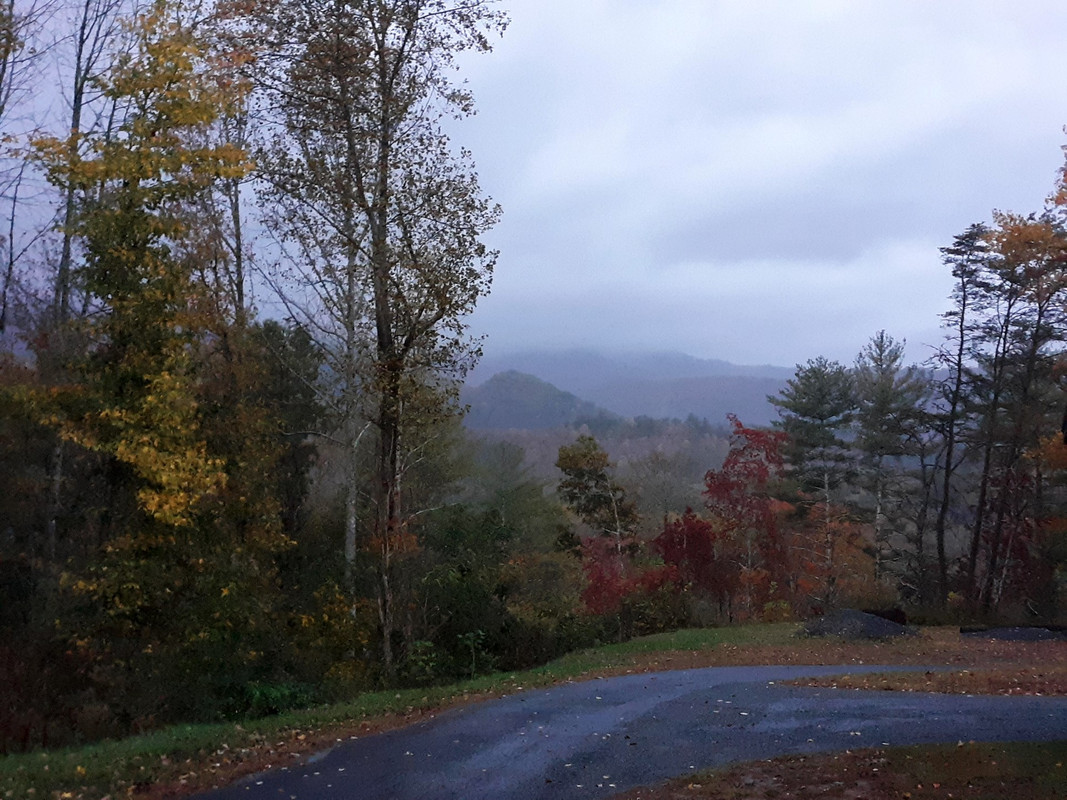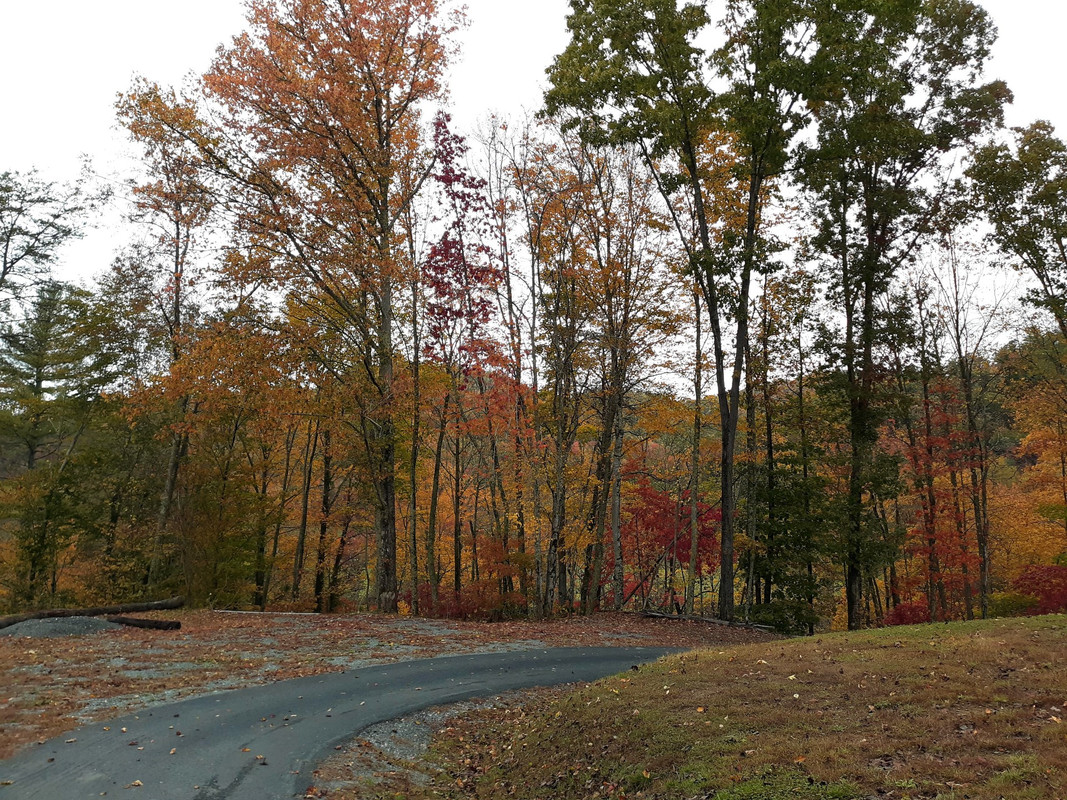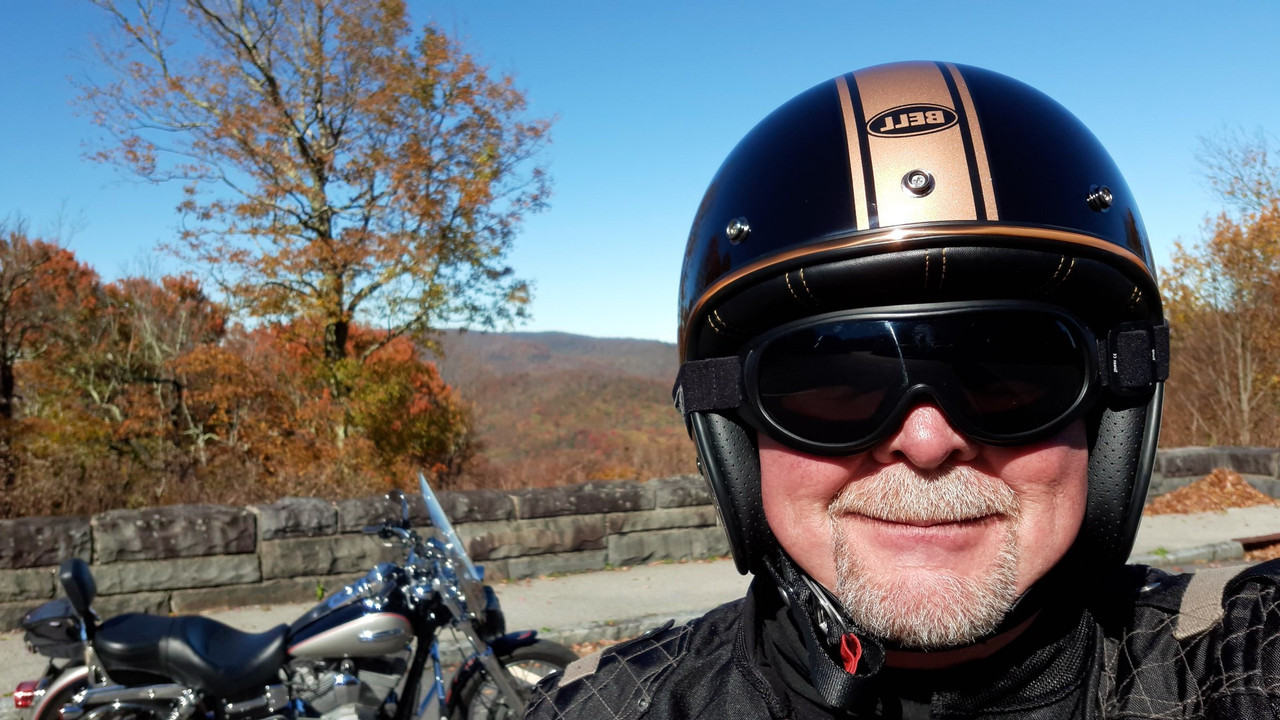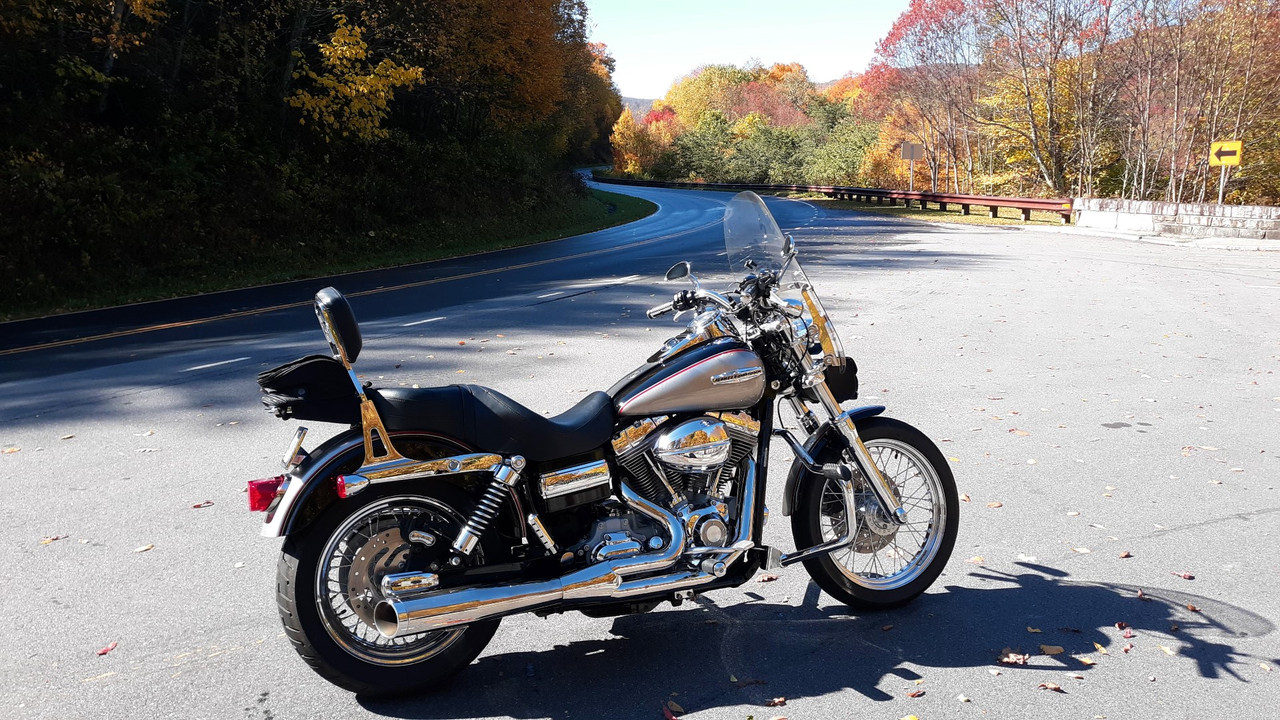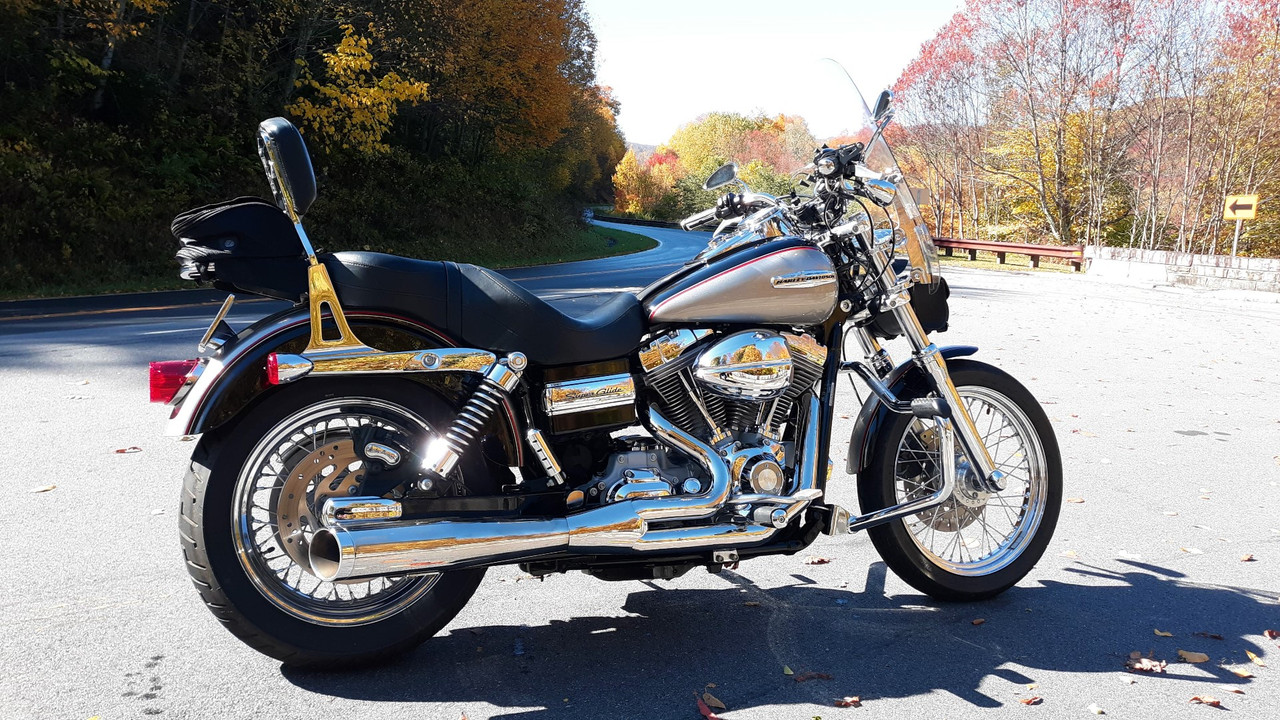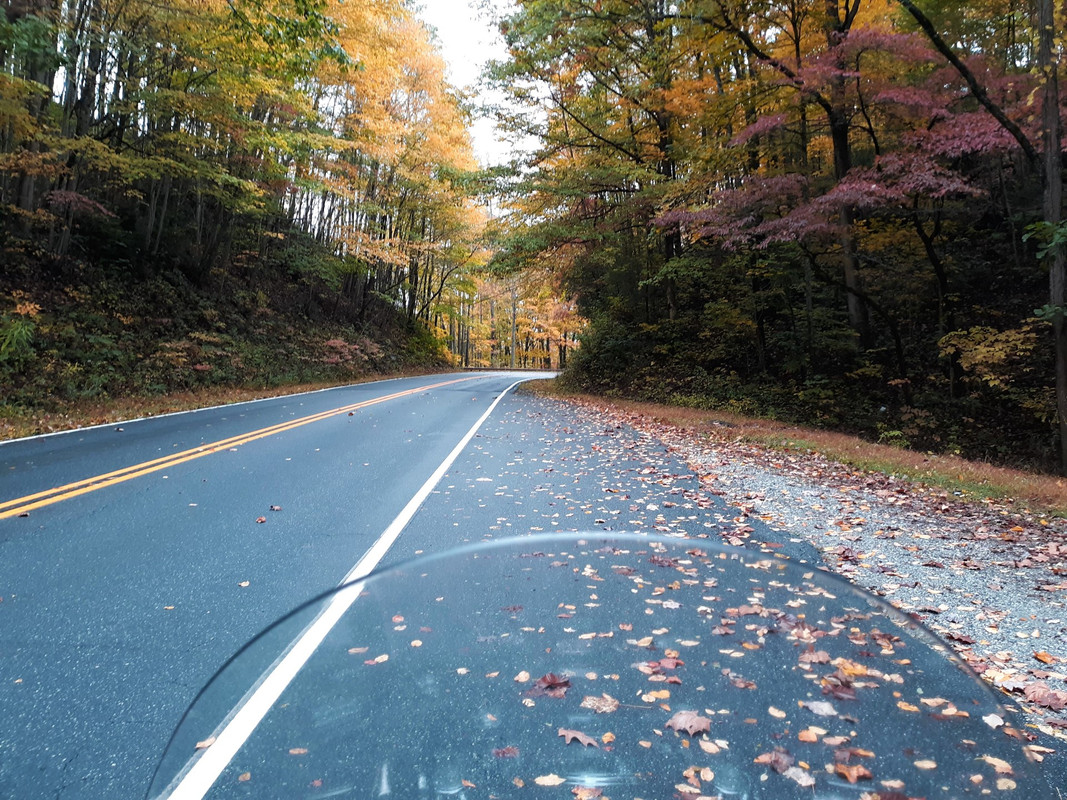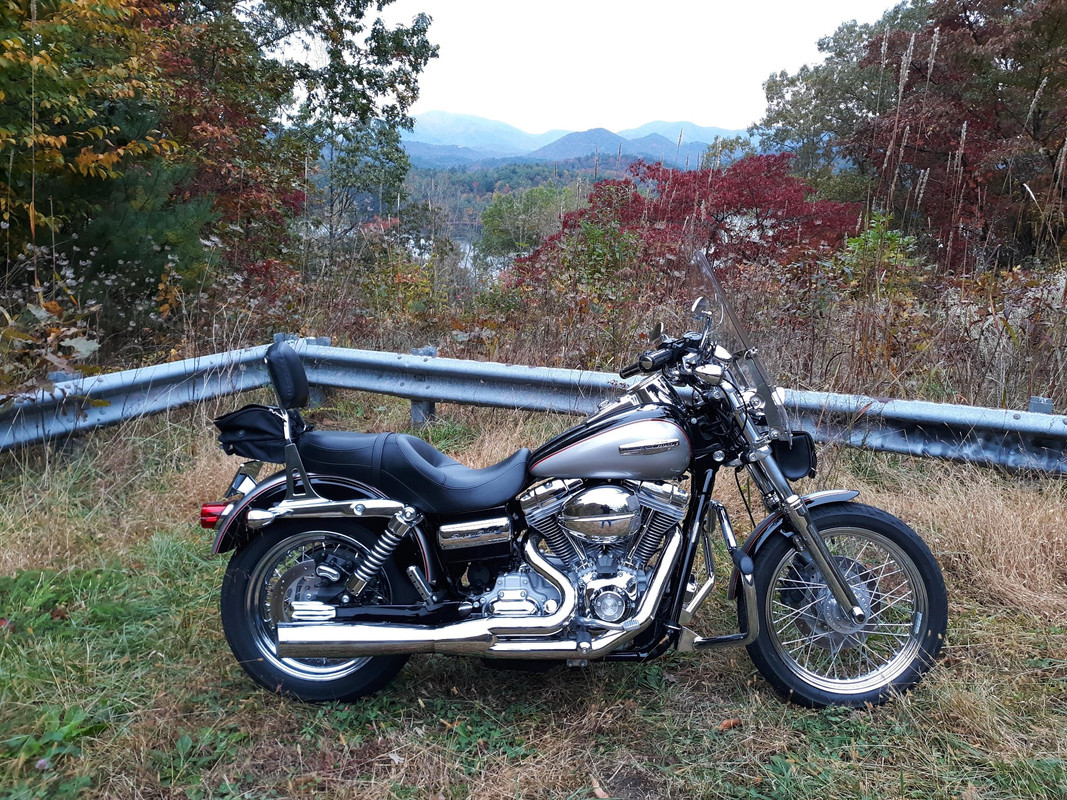 Cherohala Skyway above the clouds.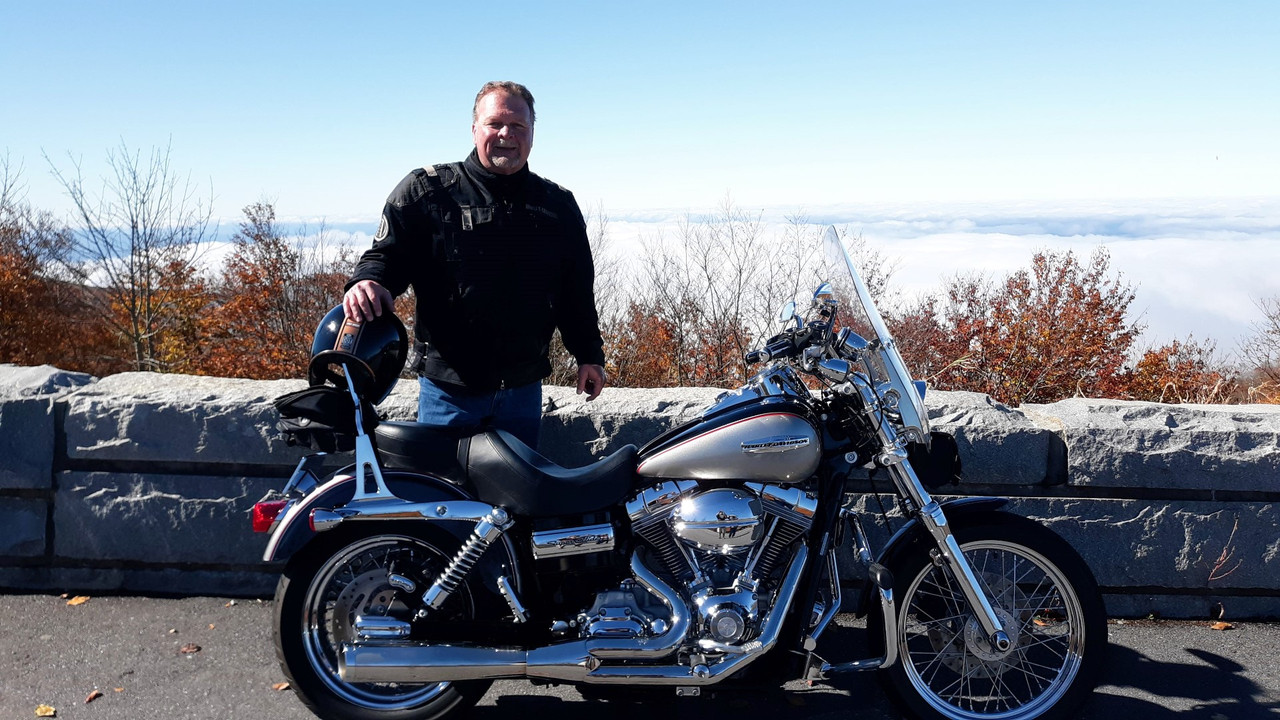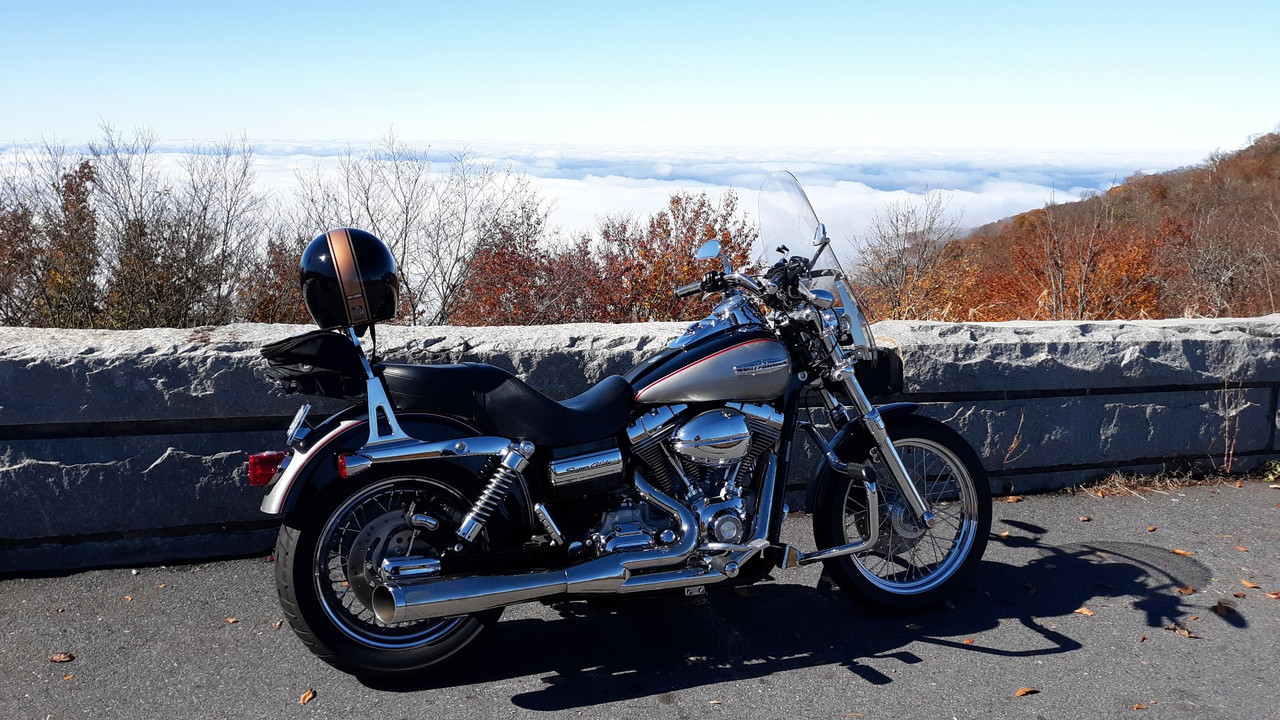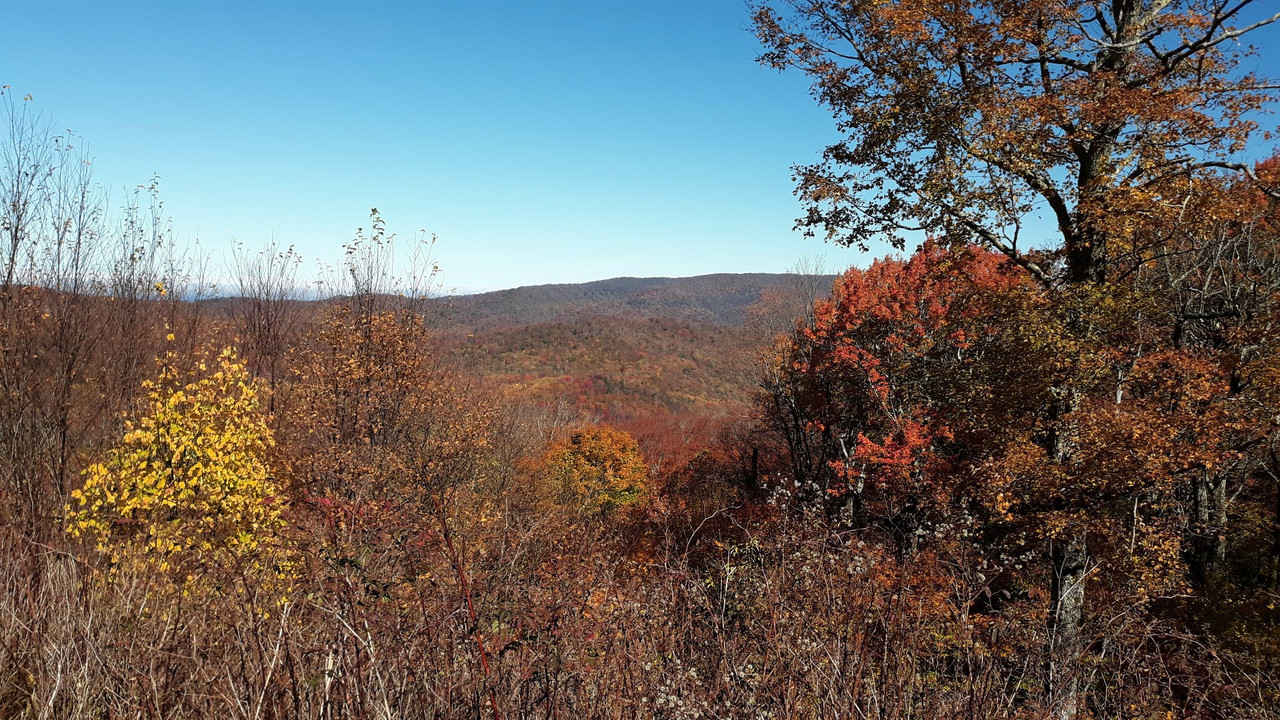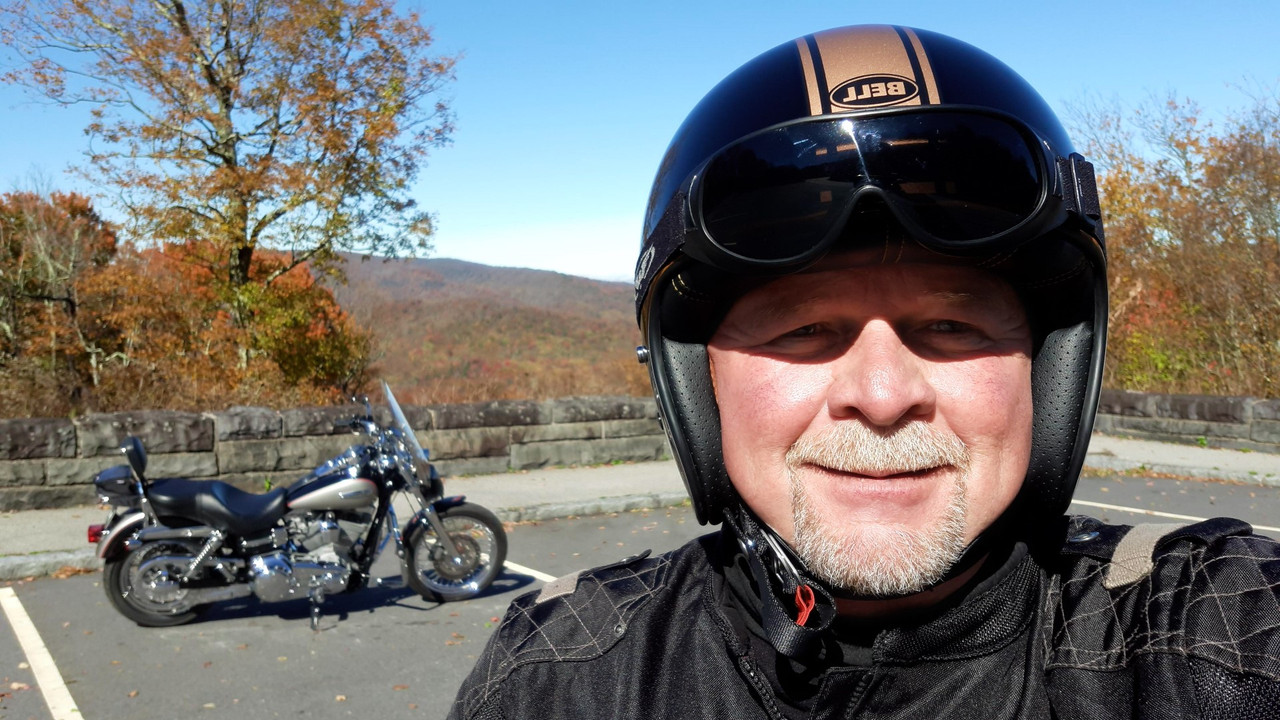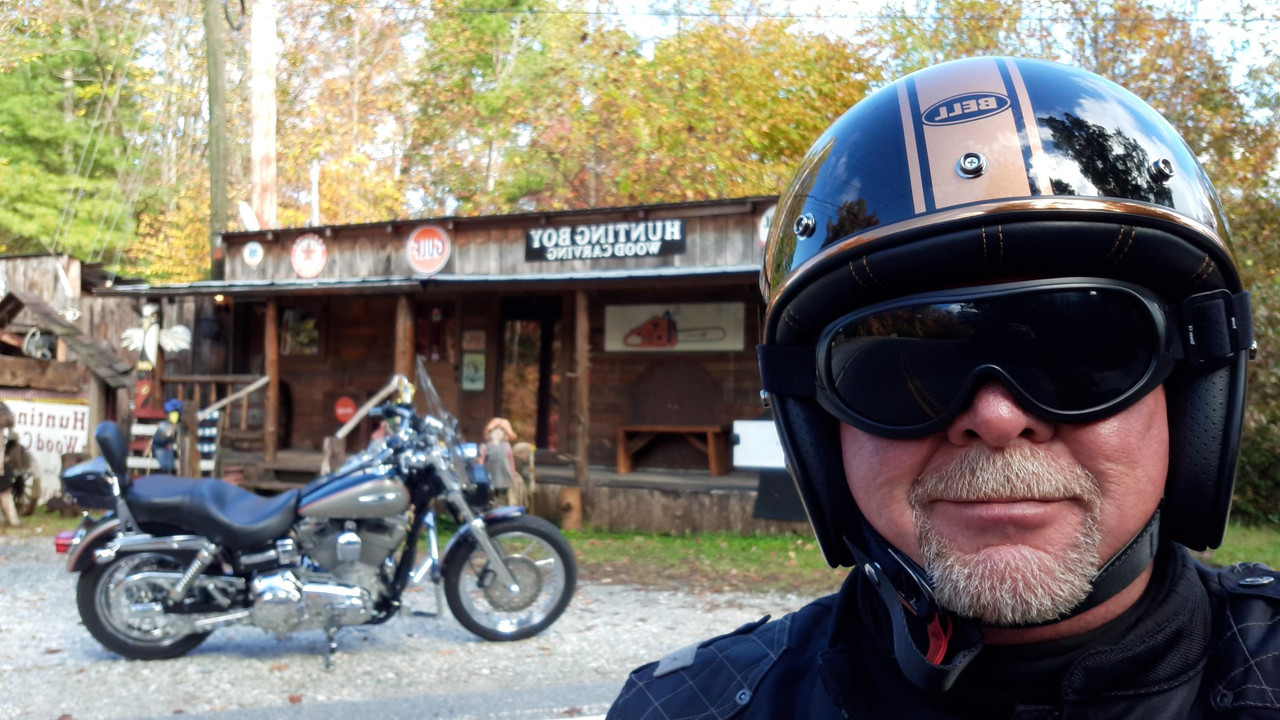 The coldest day.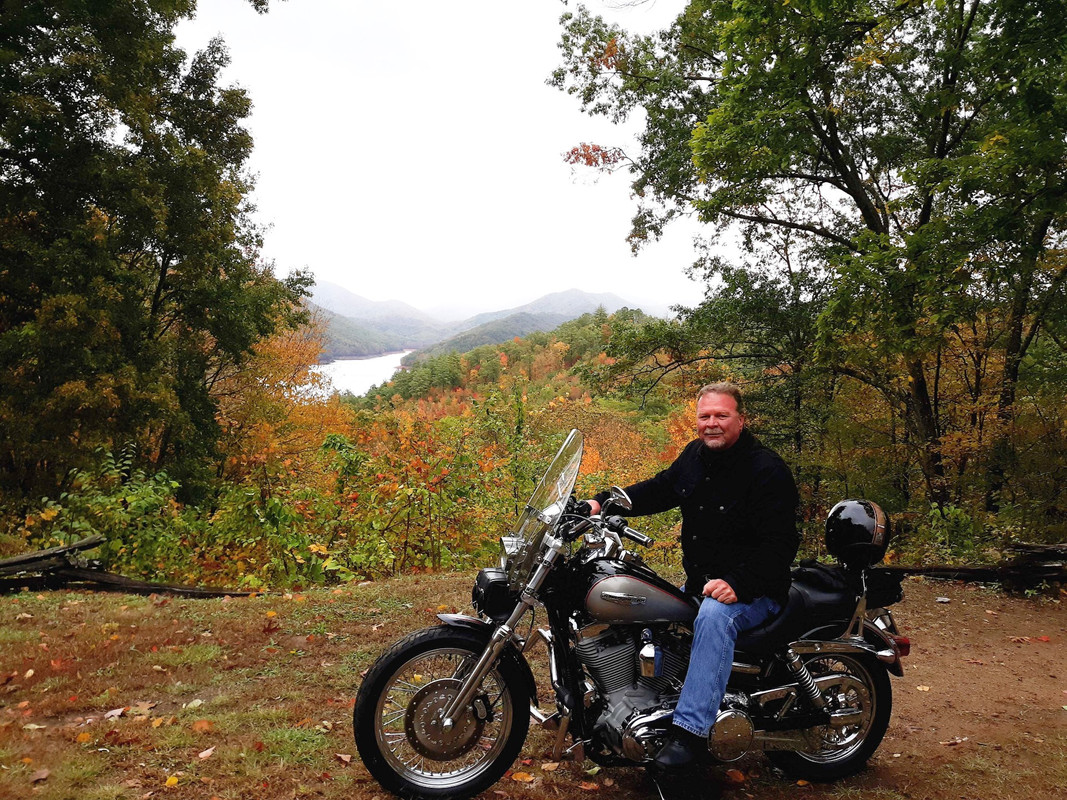 This church is located on HWY 129 near Tail of the Dragon. That yellow sign in front of the church says Dragonslayers Welcome Here.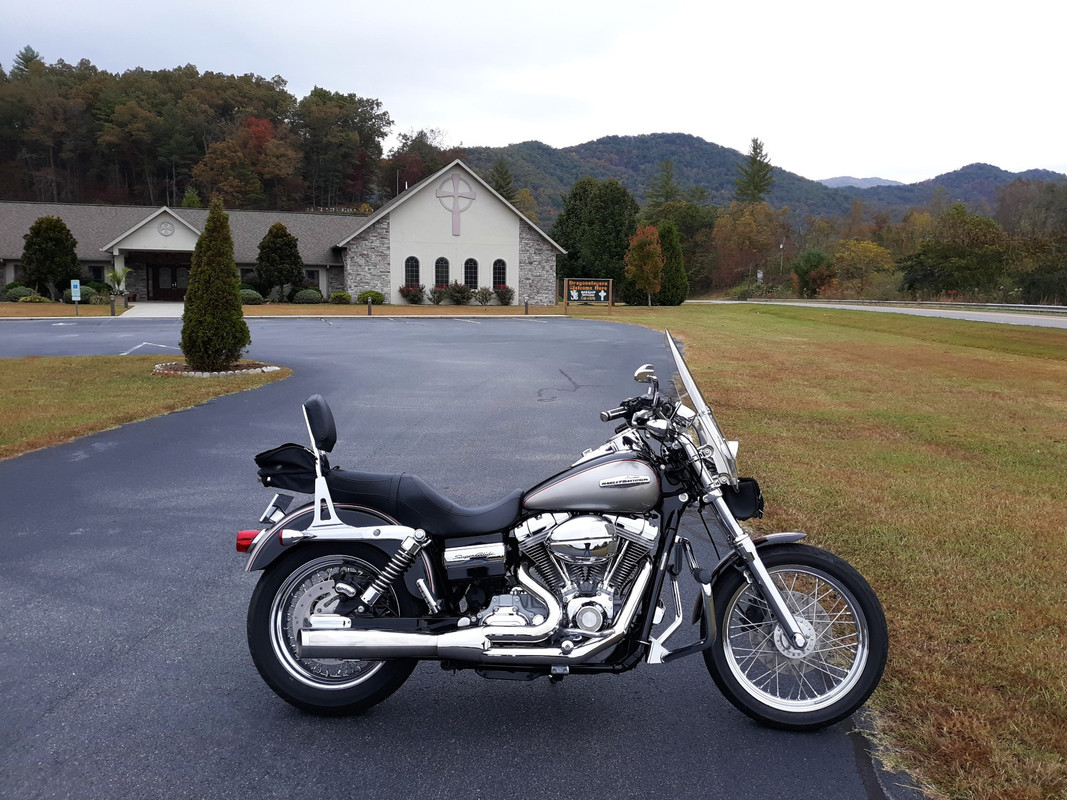 Fontana Dam
Dingo my dining buddy.