Discussion Starter
•
#1
•
I consider this a near perfect write-up of a motorcycle route.
http://www.roadtripamerica.com/drives/Coronado-Trail.htm
It's concise --- 500 words.
It's got four small pictures --- and one of them is WORTH 1000 words.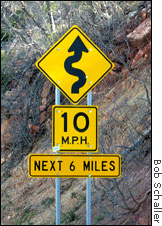 Descriptive? "The Federal Highway Administration considers this drive to be the curviest road in the nation. There are nearly 450 switchbacks"
...what else do I need to know about this route, other than..."How soon can I ride it!"
A little history lesson is included, making it interesting.
Not mentioned: Gas stops, restaurant choices, camping...