There is a picture somewhere in our photo albums here at the house, of my Dad when he was about 18. Well, it's not the ONLY picture of my Dad at 18, but this one particular one I'm speaking of, shows him standing next to a 1944 something (a Buick?) with the engine well open.
With cuffed jeans, sneakers, and a white T-shirt, he looks like a guy from "the day" who knows his way around an engine.
Truth be told, that can't be farther from the truth. I know he knows how to change the oil in a car, because I've seen him DO it (he, to this day, doesn't know how to change his own OIL FILTER though). He is by no means, a "mechanical" kind of guy. Not by ANY stretch of the imagination.
That said, he is one of those "Academic" types, now 82 years old. College and Seminary Graduate, Degrees, etc..
So yesterday, we celebrated his 60th Wedding Anniversary to my Mother, and I told him I wanted a picture of him on my bike. I guess I was thinking, "you know, I'd never see him in this situation" (being a "biker") so I would LOVE to have another picture of him like that one from when he was a teenager, looking like he knew what he was doing! (lol).
Are there 82 year old "bikers?" Absolutely. Would my father ever be one? Naw. I think he has had a lot of things in his life that he thinks might have been interesting to try (bikes included I think), but I figure he has chalked them up to the "oh well" department in his life.
What REALLY surprised me yesterday, was when I was getting ready to leave from the party, and my MOTHER came out because (as she said) "I wanna hear the pipes!!"
Good gosh,..........my Mom is a BIKER CHICK!? (lol). (I have a picture around here somewhere of her on my FIRST bike. I'll have to see if I can find it!!)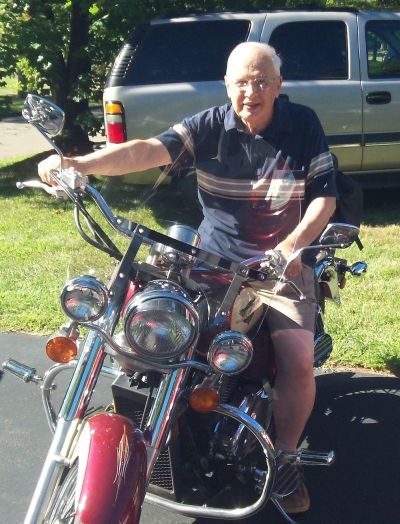 -Soupy