Years ago, close friend was recounting to me the story of his latest near evasion of the police and the resulting speeding ticket. "And I gotta go back for court in 20 days.", he said. I remember saying, "Fred, you should get a bike that doesn't let you go so fast, I'm worried about you, man!" You should get one of those Royal Enfields.
He laughed and said, "What are those, 250s?"
They weren't 250cc, even back then, Royal Enfield hadn't made a bike less than 350cc, in something like 30 years. We just didn't know much about those very rare british sounding bikes. Fred wasn't interested, but I was. The older I got, the more I liked old-timey stuff, I hadn't ridden in over twenty years, but when I saw the Royal Enfield Desert Storm 500cc single on Craigslist, I went and bought it.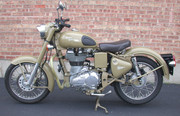 I found out subsequently the whole story, how Madras motors had arranged to import Royal Enfield motorcycles back in the 50s, how they had received a big government military contract from India and started assembling bikes from kits sent over from Redditch England, and then finally started building them from scratch as Royal Enfield of India. When the British firm folded they kept on making them, first as Enfield, then as Royal Enfield.
For decades the factory in Chennai, produced and sold that same slow spinning, single cylinder engine, with it's 75mm x 90mm bore and stroke, it's heavy flywheel and solid, if unrefined 4 speed gearbox. In a marketplace that puts the split between large and small at 250ccs, it was a big bike, and when Royal Enfield bored the engine out to 500 ccs, even the more impressive.
Royal Enfield is the Harley Davidson of India. Talk to the proud owner of the most expensive domestically produced motorcycle in India, and he'll tell you, ... "There's just something about it you can't put into words, ... it's the feeling, the power, the presence, the soul of the machine"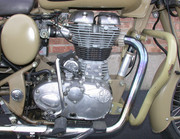 The engines of Royal Enfield and what we typically think of as a Harley Davidson engine, have some things in common as well, both air cooled, undersquare, both have pushrods, heavy flywheel, single crankpin, both start producing their torque at the low rev end of the curve. High performance fans may scoff, but there's definite value to that approach. Low revs make for an engine under low stress, that can tolerate sloppier fits, simple systems are easier to fix and keep running, and to do it with simple tools and at low cost. It doesn't hurt that it's also fuel efficient.
As India has changed, over the last 20 years, the demand for motorcycles increased, until today, when India has the most motorcycles on the road of any country, taking that title away from China just a year or two ago. This growth placed the hometown favorite, Royal Enfield in a very good position to benefit, and they did, increasing sales by something like 400% in the last decade.
In 2006, they redesigned the engines, replacing the previous separate gearbox and engine casings with unit construction. At the same time, they increased oil flow by a factor of 9, changed the bearings, the combustion chamber, increased compression, and added hydraulic lifters. The 500 got engine management systems, various sensors, ECU, EFI, O2, and all the benefits that comes with that. The 350 kept its carburetor, and is the overwhelming favorite of the Indian buyer. I suspect this preference has something to do with price, Which is currently the equivalent of around $2250, for a brand new bike, exclusive of dealer's fees.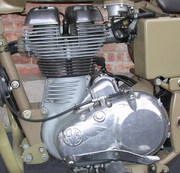 The 500s cost more. Only the 500s, and the newer bikes are exported to the US, where, of course, the cost of shipping and maintaining a dealer network must be absorbed, but the bikes are still quite inexpensive. A showroom new, 500 single can be had for less than $5000 in the US. I got mine for quite a bit less, third hand, with only 1,650 miles on the clock. The seller told me that he had bought it from his mechanic, who was selling it on consignment for a man who "had had a scare with the bike". There's a ding on the top of the tank, left side, where a tank slapper might have left it's mark. I adjusted the bars slightly to prevent the tank from denting, should I have a scare as well. The fellow I bought it from had bought it to keep up at the family summer cabin, until her remembered that meant Uncle Ralph, and cousin Willie would also be riding it. He also already had a Harley and a Can am, so I got the Royal Enfield, very reasonably priced too.
All the parts are very reasonably priced, downright cheap, I'd say. I find everything on Ebay and Amazon. There are dealers locally, they are saying there's 100 in the USA now, but I just prefer to get along on my own. I enjoy wrenching on the bike, it's been very satisfying. All the fasteners are decent metal, haven't broken or stripped a single bolt, and the bike is quite well engineered, everything accessible and well thought out, if not fancy. I prefer functional to fancy, it's all solid steel, except for the lenses of indicators.
The bike is nimble and reasonably quick through fourth gear. Fifth is top gear and a comfortable cruise is around 60mph. My bike's top speed is about 75 in full barn door mode. My tucking days are kind of over. I use the bike for a daily driver, commuting crosstown to my job, a task at which it excels. The bike will easily break away from 95% of stop light duelists, and those that have a real need to win, reliably communicate their intentions with squealing tires, at which point I obligingly roll off on the go stick and take 2nd place. The bike has excellent low speed handling. It really doesn't seem to annoy people much as I motor slowly past the column. A nicely dressed older man, sitting bolt upright, on a machine that appears to have somehow traveled 75 years into the future, and is right now passing by their side window making a sound that seems closer to the African Queen than a motorcycle.
People seem to like it. I definitely like my 2012 Royal Enfield Classic 500.