Discussion Starter
•
#1
•
Hey guys and gals!
Quick intro on me, Im 21, been riding since Im 13. Currently have this bike and a 2003 Honda VTX 1800. I'm cheap and like to do everything myself, (even if results aren't amazing) I still get the pride that I did it. Im from Mississippi and just love riding.
When I got the bike.
Traded a 77 Ford F-100 for it. I got the sour end but bikes are better so I'm happy.
After tossing a lot of parts, seeing what the possibilites could be.
Gonna cut it up and make a seat
Making a new wiring harness
Quickly got tired of being on the ground messing with wires so I made a quick table
Got the wiring harness done, playing with a new seat idea to hide my electronics.
Put this pan under the seat, set electronics in it and the seat fits over the top of it all. Maybe so?
I took the time to make a diagram of my new, simplified wiring harness. Feel free to use/share/improve, (if you do improve, just tell me so I can do it to mine!)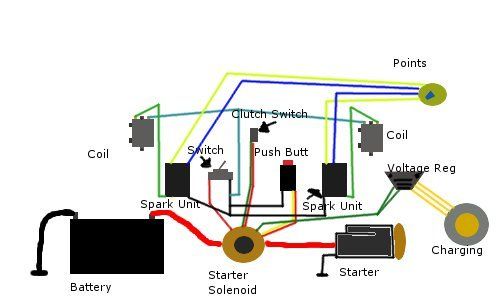 Cut the frame down, gonna go for hardtail, shaft drive.
Got tired of tools falling off my little table, so threw some catch shelves in it.
Also cleaning the motor up getting ready for paint.
This is where I currently stand and work is well under way.
Got a few parts coming on the way.