Discussion Starter
·
#1
·
Hello to everyone out there. For the past few months I've been hard at work building a 83 shadow and I can see the slightest glimpse of light at the end of the tunnel.
The issue I'm asking about today is spark! (oh boy!)
But first I'll lay out my setup.
I made my own wiring harness (which I suspect where the problem is lingering)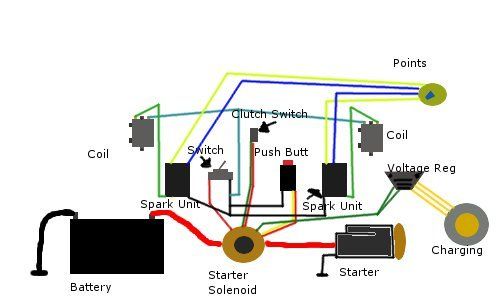 I do have spark on all 4 plugs. Coils read 3.7 ohms across the small connectors. I have a fuel line running from tank to carbs, no petcock on tank, just a small inline valve halfway through. Good charge on battery. So I'm getting spark, the occasional backfire tells me im getting fuel, but it never acts like she wants to crank.
What my question is, If my wires are mixed up going to the spark units could I be firing on one cylinder when the opposite is getting fuel? If so, anyone have a way to determine how to wire this thing up. On one side i have 2 whites and 2 yellows (coming out of spark units), and the other side i have 2 white, 1 yellow, 1 blue. (coming from engine case)
On a sidenote, I do not know the history of these carbs, they were bought on ebay after fighting with a torn diagphram slide in the originals. I have not been inside of these yet.