Hello All
I have recently purchased a 1971 Honda CB450 as my first motorcycle. The bike was not running when I purchased it (thought I was led to believe otherwise), however this didn't bother me as I had planned to do a near full restoration to the bike within the next year or so. I had done a lot of work on cars, mostly Volkswagen, before now and so I'm not to familiar with the make up of a bike. I have created this thread for a few reasons, those being:
-To show off my motorcycle and the work I plan on doing to it.
-To get help with certain problems that occur, when needed.
-As a sort of reference to others who have just purchased a bike for the first time and plan to fix theirs up as well.
I noticed these older Honda motorcycles are pretty popular machines, so I hope it helps a few people, and that some people can help me! I plan on doing many things, such as rewiring, replacing clutch, replacing exhaust, general cleaning, replacing parts that are broken or worn as I see them, replacing electric push starter, re-painting, and changing air filters. Maybe, and probably, many more things as well!
*EDIT* I anyone wants to download the manual I did for this bike, here is the link: http://www.mediafire.com/?jnyzijmfydw
First off; the bike: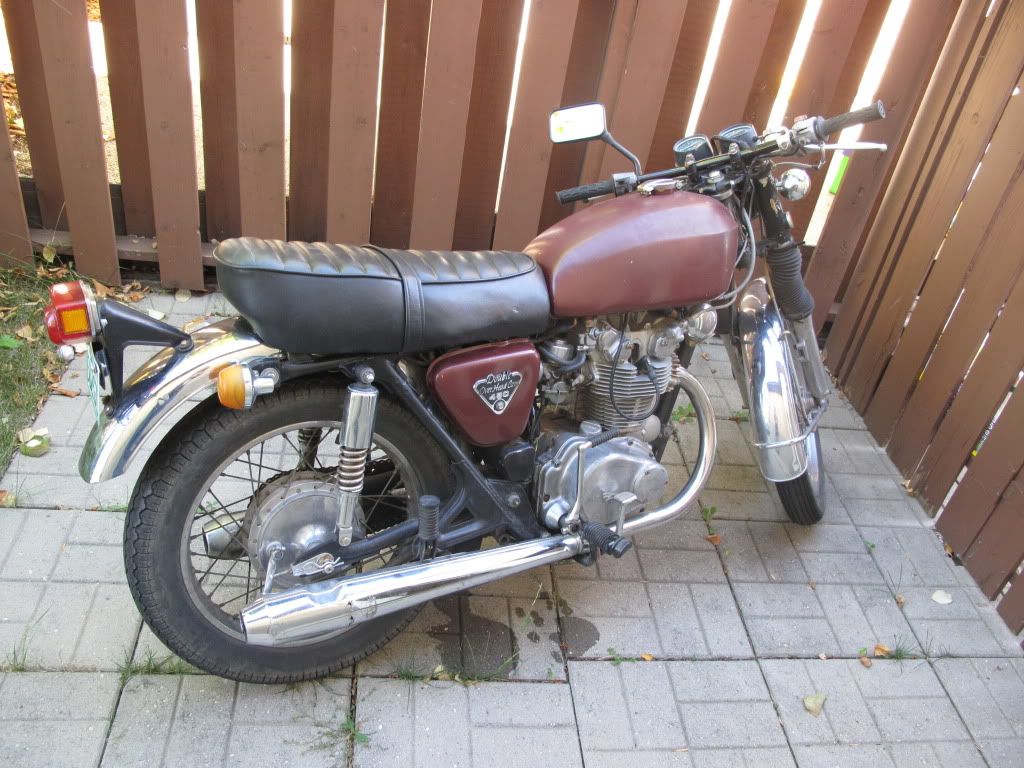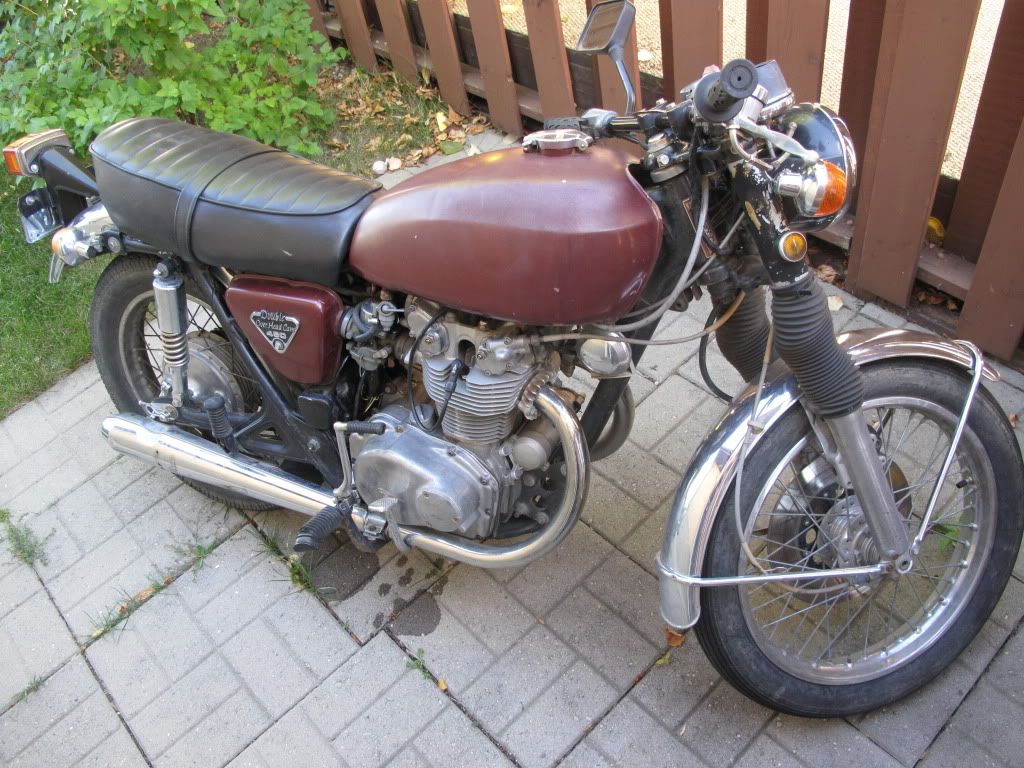 For a short history of what has happened with the bike since I have purchased it, I took it home and it did not run. The previous owner did tell me that it ran, and ran quite well. Foolishly I believed him. I was in quite a hurry when I went 3 hours out of town to pick it up. I had to get my friends truck, which I had borrowed, back to her by the time she had to work. He never started the bike infront of me, but I guess thats my fault. Kids - make sure when you buy your first bike it runs before you spend $1000CND!
I got it home, tried to fire it up with the electric starter, nothing happened. Right from the start, the push start was dead. Not a big deal I figure, because I didn't plan on using the push start anyways. I give it a few kicks and nothing happens there either. I did a few tests such as testing the battery, changing the gas, cleaning the gas filter, and a spark plug test. For those who don't know, that consists of removing the spark plug, and holding the tip to the engine case, or another metal surface and seeing if you can see a spark. To me, the spark plugs looked incredibly weak compared to what I was used to seeing on cars. So I changed the spark plugs and voila! The bike was running.
Now comes the road test. I decided to drive the bike around for a few hours to get a good feel for it. cruising along residential streets was fine, but when I got into a more commercial area with my first red light, it died at the light. At first I thought I had an idle problem, so I adjusted the idle pins to the point where it was idling at around 3000rpms - which is not an ideal place to have it. Later, after some more general riding, I noticed it only seemed to die if the clutch was in, however didn't die if only left in neutral. Through that reasoning I have decided the clutch must be replaced. For the next few days, I just kept it in high revs while at lights.
All is fine and dandy, until it rains one night, and I am unable to use the bike so it sits for a day. I tried to get her going the next day, and I noticed something: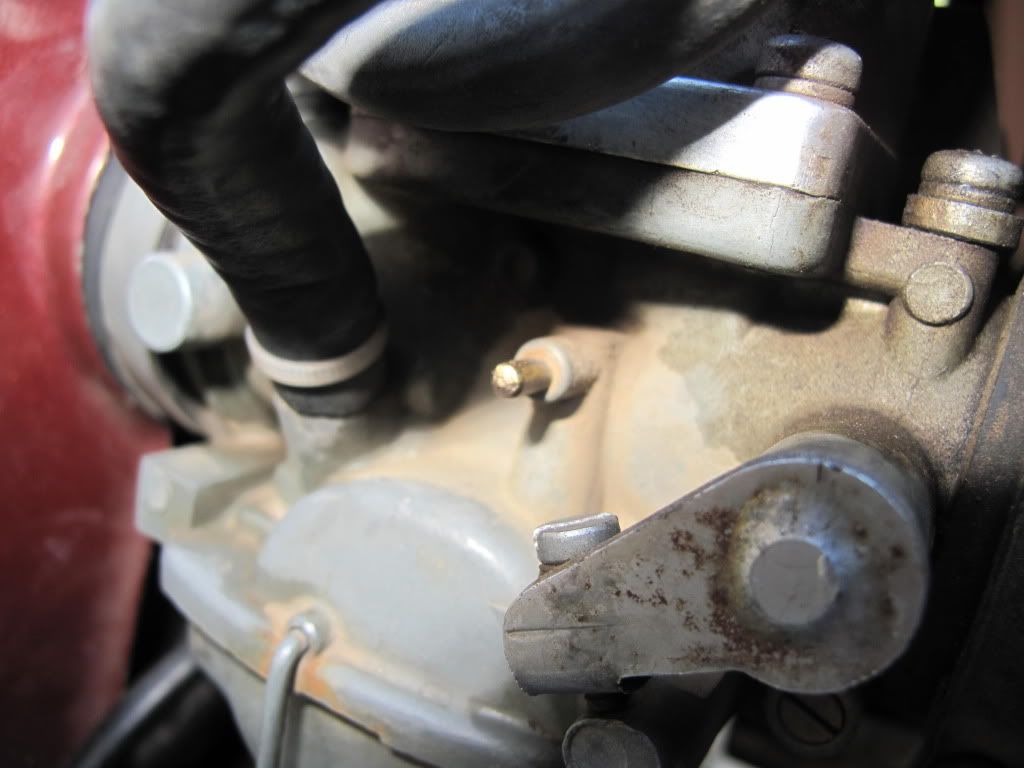 The air jet (centered in the picture) was sticking out, which I never noticed before and thought may have been a problem. Especially after turning the gas on, giving it a kick, and watching this happen:
I think its safe to assume that gas exiting the vehicle is usually not a good sign.
Since posting on another thread, and a further examination of the bike, THIS IS NORMAL! The air jet protruding, anyways. The gas leak - not so much.
*EDIT* Picture of the side of the left carburetor, showing the air jet you couldn't see without the other carburetor off:
I think this is either a mixture problem, or a float isn't working properly in the carburetor. Any one have any ideas?